JULY COMEDY SPOT
Tommy Johnagin
July 24 - 26, 2015, 7PM; 8PM; 9:45PM, 10:30 PM.
Tommy is an autobiographical story telling comedian who is a favorite at comedy clubs all across the country. In 2007 Tommy was invited to the prestigious "Just For Laughs" comedy festival in Montreal, Canada where he was the highest reviewed "New Face." He has also appeared at Comedy Central's "South Beach Comedy Festival" TV credits include: Five appearances on "The Late Show" with David Letterman. His own half-hour special on Comedy Central, Comedy Central's "Live at Gotham" and, "John Oliver's New York Stand-up Show".
PALM BEACH FLORIDA FOOD & DINING

Café Boulud Palm Beach

301 Australian Avenue
Palm Beach, FL 33480
Casually refined French-American cuisine, highlighting light and inventive Mediterranean cuisine in a Provençale ambiance.


Dining Style: Fine Dining
Price: $31 to $50
Parking: Valet
Dress Code: Casual Elegant
See more Café Boulud details.
Japan's Robot Kingdom
June 16, 2015 – September 13, 2015

This exhibition explores Japan's vast robot kingdom through a collection of vintage toys, figurines, and comics. For the past 50 years, the subject of robots has been an integral component of Japan's pop culture industry as represented by a variety of media including toys, manga (Japanese comics), and anime (Japanese animation). More > > >
Shell Chic Summer with Robin Grubman

Wednesday, August 26, 2015, From 10AM - 12PM.

Join this summer and create beautiful objects with Robin Grubman, inspired by island life and the ocean.

Back to School Memories. Back by popular demand! Create a keepsake frame to capture your summer memories or back-to-school highlights using shells to bring a bit of the beach back home. Ms. Grubman has worked with shell design for 13 years and has been teaching shell classes at the Four Arts children's library for the past four years. As a result of much demand from the mothers and local residents we organized a series of adult shell classes. More >
Kids Fitness Festival 2015
Jul 22, 2015 - Jul 23, 2015, 10AM - 2:30PM.
Each July, over 5,000 south Florida youth gather for two days of FITNESS and FUN! Full of excitement and energy, festival participantshave the opportunity to get hands on experience and develop skills in over 40 different sports clinics.
Read More >>>
Palm Beach Summer Beer Fest
Saturday, July 25, 2015, 1 PM - 5 PM.
Come and enjoy the distinct flavors of new and local beer at South Florida's only indoor Craft Beer Fest. This summertime party blast will be hot and yet so cool… both figuratively and in reality.
More >>>
JULY ENTERTAINMENT EVENTS
Big Bang XIX
July 31, 2015, at 7:00 PM.

Sean's Dance Factory presents Big Bang XIX; one of the most amazing dance productions that encompasses dance at its highest level. Each Big Bang brings an explosion of eclectic talent put together by their very known Choreographer and Artistic Director, Sean Green. With high variety of style, this year, Sean's Dance Factory brings their 19th production, which will inspire and take you and your family to the world of Hip Hop dance like you've never seen it before. Tickets Start At: $25.00. Buy Tickets >
FEATURED PALM BEACH, FL HOTEL

The Sabal Palm House Bed & Breakfast Inn. Experience the charm of a Palm Beach, Florida bed and breakfast, the elegance of an affordable luxurious inn and the tropical beauty of the old Florida style. Read More > > >
110 in the Shade
August 14 - 23, 2015, 2PM, 7PM, 8PM.
110 in the Shade takes place in a drought-stricken, Southwestern town in the 1930s, where a lonely young woman named Lizzie is convinced that she'll never find true love. But the arrival of Starbuck, a charismatic con-man and self-proclaimed rainmaker, changes her life.
Learn more > >
Live Entertainment on the Plaza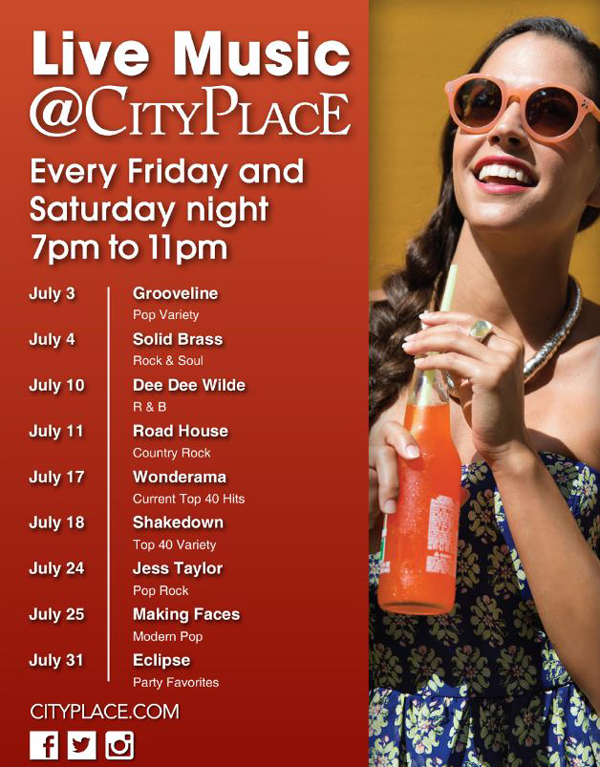 July 1 - 31, 2015
at
City Place
, 700 S. Rosemary Avenue, West Palm Beach, FL 33401
Don't miss out City Place
West Palm Beach events
through the end of July, 2015, inlcuding great concerts of Live Entertainment on the CityPlace Plaza.
Tommy

July 9 - 26, 2015, 2PM - 4PM, 8PM – 10PM.

A deaf, dumb and blind boy's journey from pain to triumph is a sensory-defying rock and roll experience. Based on the iconic 1969 rock concept album, The Who's Tommy is an exhilarating story of hope, healing, and the human spirit. The story of the pinball-playing boy who triumphs over his adversities has inspired, amazed, and puzzled audiences for more than 40 years. Read More > > >

Alien Invasion Nights at the Museum
Friday, July 31, 2015, 6:00PM to 9:00PM.
Bring your little ones to the Science Center of
museum
for a fun-filled event just for them! Make your own Galaxy Goo and learn about the solar system, the night sky, galaxies, and the universe with fun hands-on activities. Activities include: Meteorite Lab, Brownies It's Your Planet: Senses, Juniors it's Your Planet: Detective Badge, Extraterrestrial Eggs and Alien Masks crafts.
More info > >
More Palm Beach FL Events.