FEBRUARY COMEDY SPOT
Bob Saget
February 26 - 27, 2016, 7PM; 7:30PM; 9:30PM, 10 PM.
Yes, Bob Saget has starred in many successful television shows, including two of the most family-friendly shows network TV has ever produced ("Full House" and "Americas Funniest Home Videos") but he's also an out of his mind, Grammy-nominated standup comedian for over thirty years. From his HBO special "That Ain't Right" to his scene-stealing cameos in "Entourage," and "The Aristocrats," it's always effective as Saget embraces his dark side.
PALM BEACH FLORIDA FOOD & DINING

Café Boulud Palm Beach

301 Australian Avenue
Palm Beach, FL 33480
Casually refined French-American cuisine, highlighting light and inventive Mediterranean cuisine in a Provençale ambiance.


Dining Style: Fine Dining
Price: $31 to $50
Parking: Valet
Dress Code: Casual Elegant
See more Café Boulud details.
Paper Cut Art with Hiromi Moneyhun
February 20, 2016 10:30AM, 2PM

Join guest artist Hiromi Moneyhun to create a unique piece of art. Be introduced to her intricate style and her inspiration to create her whimsical and bold artwork. Learn special cutting techniques and get the chance to create your own paper cut artwork to take home. More > > >
"Bill Cunningham: Facades"

Sunday, February 14, 2016, 1:00PM – 5:00PM

This exhibition is organized by The New-York Historical Society. By showcasing fashion in the context of architecture,

Bill Cunningham traces the evolution of aesthetics from colonialism to the rise of modernism in New York City. The exhibit also will reference architectural drawings from the New-York Historical Society's collection adjacent to Cunningham's images. More >
Palm Beach Fine Craft Show 2016
February 26 - 28, 2016
This elegant showcase features 135 of the nation's top contemporary craft artists, offering their latest celebrated works in a comfortable, indoor setting.From exquisite glass to glistening porcelain and figurative ceramics, and sculptures made of wood, paper, metal and mixed media, the Palm Beach Fine Craft Show offers something for everyone.
Read More >>>
WEST PALM BEACH HOME SHOW
February 19 - 21, 2016
a wide selection of home improvement professionals in a fun, interactive environment. After meeting with and comparing our expert exhibitors, we know you'll be inspired and motivated to start planning with confidence.
More >>>
FEBRUARY ENTERTAINMENT EVENTS
Motown The Musical
February 11 - 14, 2016 at 2PM, 8PM.

ImagesVideo It began as one man's story … became everyone's music … and is now Broadway's musical. Motown The Musical is the true American dream story of Motown founder Berry Gordy's journey from featherweight boxer to the heavyweight music mogul who launched the careers of Diana Ross, Michael Jackson, Smokey Robinson and many more. Motown shattered barriers, shaped our lives and made us all move to the same beat. Buy Tickets >
FEATURED PALM BEACH, FL HOTEL

The Sabal Palm House Bed & Breakfast Inn. Experience the charm of a Palm Beach, Florida bed and breakfast, the elegance of an affordable luxurious inn and the tropical beauty of the old Florida style. Read More > > >
Long Day's Journey Into Night
January 29 - February 28, 2016, 2PM, 7PM, 8PM.
All the demons of the Tyrone family are laid bare over the course of one very long August day in 1912, in this searing, Pulitzer Prize-winning, semi-autobiographical masterwork.
Learn more > >
Entertainment on the Plaza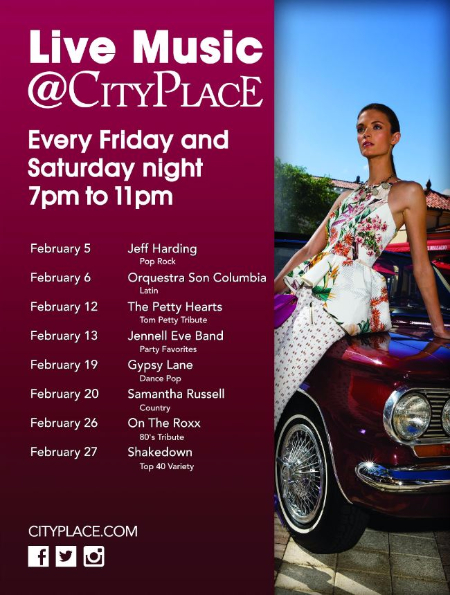 February 1 - 29, 2016
at
City Place
, 700 S. Rosemary Avenue, West Palm Beach, FL 33401
Don't miss out City Place
West Palm Beach events
through the January, 2016, inlcuding great concerts of Live Entertainment on the CityPlace Plaza.
Inherit the Wind

February 25 - March 13, 2016

This is the play that has as its genesis in the events of the famous Scopes trial. One of the most outstanding dramas of our time. "The portrait it draws of an explosive episode in American culture, vigorously written by Jerome Lawrence and Robert E. Lee, remains as fresh as it ever was."Literature of the stage!" —NY Times Read More > > >

The Science of Chocolate
Friday, February 20, 2016 - 11AM
cience is sweet! During Science of Chocolate, visitors will learn the science behind how chocolate is made, the chemical properties of chocolate, as well as its potential health benefits. Activities include liquid nitrogen chocolate ice cream, frozen chocolate molds, chocolate samples, a never-ending chocolate fountain from Hoffman's Chocolates, and chocolate-related crafts and activities.
More info > >
More Palm Beach FL Events.