JANUARY COMEDY SPOT
Ralphie May
January 28 - 30, 2016, 7PM; 8PM; 10PM, 10:30 PM.
For 25 years now, Ralphie May has appeared at the biggest venues, slayed every late-night audience multiple times, recorded a special for every comedy-loving network on television, traveled the world for the USO and reached the level of popularity few standup comedians have attained. Yet little compares to the amount of exposure May received when Netflix exclusively launched his new comedy special "Unruly" on Februrary 27th, at the same time it released the new season of "House of Cards." May is currently on tour in North America.
PALM BEACH FLORIDA FOOD & DINING

Café Boulud Palm Beach

301 Australian Avenue
Palm Beach, FL 33480
Casually refined French-American cuisine, highlighting light and inventive Mediterranean cuisine in a Provençale ambiance.


Dining Style: Fine Dining
Price: $31 to $50
Parking: Valet
Dress Code: Casual Elegant
See more Café Boulud details.
Mommy & Me Kamishibai Story Telling
February 10, 2016 10:30am.

Bring the little one(s) and come to the Library to hear the reading of a Japanese kamishibai folk story! Each month will feature a different story! More > > >
Bolshoi Ballet: The Taming of the Shrew

Saturday, February 6, 2016, 2:00PM – 5:00PM

Many suitors dream of marrying the lovely and docile Bianca, including Luciento. However her father will not let anyone marry her before her elder sister, the ill-tempered shrew Katharina,

is herself married. French choreographer Jean-Christophe Maillot lands a coup with his adaptation of Shakespeare's comedy tailored specifically to the Bolshoi dancers, and achieves a breathtaking, nonstop dance unlike any other. This production was staged exclusively for the Bolshoi and is not to be missed! More >
The Palm Beach Martial Arts Expo 2015
January 30, 2016, 9AM.
This tournament, which is rated By F.S.K.A., N.A.S.K.A., F.B.B.A.-X, is now considered as one of the most important in the world. The international reconnaissance of the tournament encourages the best athletes in the world to participate. The 2nd edition expects more than 700 competitors from more than 10 different countries.
Read More >>>
Palm Beach Summer Beer Fest
Saturday, July 25, 2015, 1 PM - 5 PM.
Come and enjoy the distinct flavors of new and local beer at South Florida's only indoor Craft Beer Fest. This summertime party blast will be hot and yet so cool… both figuratively and in reality.
More >>>
JANUARY ENTERTAINMENT EVENTS
Romeo and Juliet.
Monday, January 30, 2016 at 8:00 PM.

British-American touring company Aquila Theatre brings to life one of literatures most iconic couples in this moving adaptation of William Shakespeare's timeless romantic tragedy, Romeo and Juliet. Aquila's gifted actors offer an innovative style and dynamic physical approach to the Bard's heartbreaking tale of passion, potions and power. Buy Tickets >
FEATURED PALM BEACH, FL HOTEL

The Sabal Palm House Bed & Breakfast Inn. Experience the charm of a Palm Beach, Florida bed and breakfast, the elegance of an affordable luxurious inn and the tropical beauty of the old Florida style. Read More > > >
Long Day's Journey Into Night
January 29 - February 28, 2016, 2PM, 7PM, 8PM.
All the demons of the Tyrone family are laid bare over the course of one very long August day in 1912, in this searing, Pulitzer Prize-winning, semi-autobiographical masterwork.
Learn more > >
Entertainment on the Plaza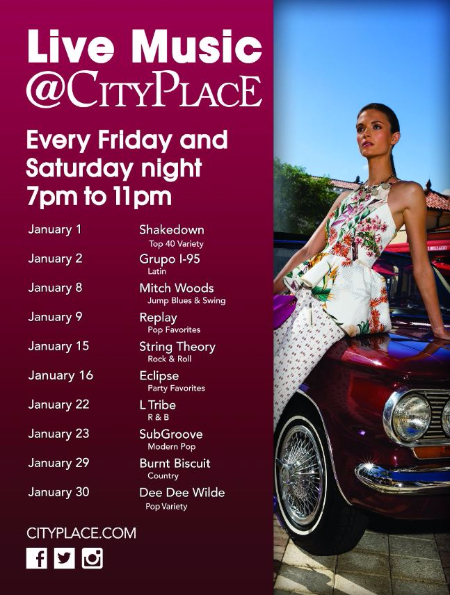 January 1 - 31, 2016
at
City Place
, 700 S. Rosemary Avenue, West Palm Beach, FL 33401
Don't miss out City Place
West Palm Beach events
through the January, 2016, inlcuding great concerts of Live Entertainment on the CityPlace Plaza.
Reckless by Craig Lucas

JANUARY 21 - 31, 2016, 7PM.

On Christmas Eve, Rachel is informed by her guilty husband that he has hired a hitman to kill her, and she must flee for her life—which she does by scrambling out her bedroom window and into the snowy night. Thus begins a series of picaresque escapades which includes psychiatrists, TV appearances and a paraplegic named Pootie. Read More > > >

Dark Sky Party
Friday, Jan 29 2016 - 6:00pm to 9:00pm
Grab your fellow space cadets to the Science Center of
museum
for a fun-filled event just for them! Step into the mysterious world of the Universe during the Dark Sky Party Nights at the Museum! Activities include: Night Sky Viewing, Phosphorescent Constellations, Oreo Moon Phases, Dry Ice Asteroids, Cosmic Collisions and much more!
More info > >
More Palm Beach FL Events.