JUNE COMEDY SPOT
Jen Kirkman
Friday, August 1, 2014, 8PM, 10:30PM.
Jen Kirkman is a stand-up comedian and the author of the book, "I Can Barely Take Care of Myself," which became an instant New York Times Bestseller when it was released in April 2013. You've seen Jen on her regular appearances on Comedy Central's @midnight. She's done stand up on many late night shows: The Tonight Show with Jay Leno, Conan, John Oliver's New York Stand-Up Show, The Late Late Show With Craig Ferguson. She is currently working on her second book to come out through Simon & Schuster.
PALM BEACH FLORIDA FOOD & DINING

Flagler Steakhouse Palm Beach FL

Two South County Road
Palm Beach, FL 33480
Serving the finest USDA prime-grade and dry-aged meats, featuring a sporty Palm Beach ambiance with rich interiors, and panoramic golf course views.


Dining Style: Fine Dining
Price: $31 to $50
Parking: Valet
Dress Code: Smart Casual
See more Flagler Steakhouse details.
Samurai Culture: Treasures of SF Collections
June 3, 2014 - August 31, 2014.

Samurai Culture, organized by the Morikami Museum in conjunction with various collectors across South Florida, features an array of samurai suits of armor and weapons fashioned during the Edo period (1600 – 1868). Also displayed are a variety of paintings and prints depicting samurai life made during both the Edo- and Meiji period (1868 – 1912). More > > >
"The Third Man," by Graham Greene

Tueday, June 23, 2014, 5:30 PM.

Rollo Martins' usual line is the writing of cheap paperback Westerns under the name of Buck Dexter. But when his old friend

Harry Lime invites him to Vienna, he jumps at the chance. With exactly five pounds in his pocket, he arrives only just in time to make it to his friend's funeral. The victim of an apparently banal street accident, the late Mr. Lime, it seems had been the focus of a criminal investigation, suspected of nothing less than being "the worst racketeer who ever made a dirty living in this city." More > >
Zumbathon 2014
Thursday, July 24, 2014
Party yourself into shape at the Zumbathon Fitness and Welness Expo - the Latin-ispired, easy to follow, calorie-burning, dance fitness-party. Exergaming - fun gaming with physical activity.
Read More >>>
GHOST TOURS: AN EVENING IN THE DARK
August 1, 2014, 8 PM - 10 PM.
Do you have the bravery to see what's really going on in Yesteryear Village? For years, there have been whispers of hauntings, ghost sightings and cloaked figures in several of the town's buildings.
More >>>
JUNE ENTERTAINMENT EVENTS
Moving On The Wings Of Faith
Saturday, July 12, 2014, 7:00 PM.

Bethel Evangelical Baptist Church presents Moving On The Wings Of Faith Concert with distinctive artists, Hip-Hop Dove Award Winning, Group 1 Crew, World Renowned Awakening Worship Vocalist William McDowell and Inspirational Christian Rap Artist KB. Moving On The Wings of Faith is a fundraising concert for our new building project. Tickets Start At: $25.00. Buy Tickets > >
FEATURED PALM BEACH, FL HOTEL

The Sabal Palm House Bed & Breakfast Inn. Experience the charm of a Palm Beach, Florida bed and breakfast, the elegance of an affordable luxurious inn and the tropical beauty of the old Florida style. Read More > > >
The Most Happy Fella
July 18 - 27, 2014, 2PM, 8PM.
An older unprepossessing grape farmer, who believes love has passed him by, romances a young waitress aching to find love in this glorious musical featuring such songs as "My Heart Is So Full Of You" and "Standing on the Corner."
Learn more > >
Live Entertainment on the Plaza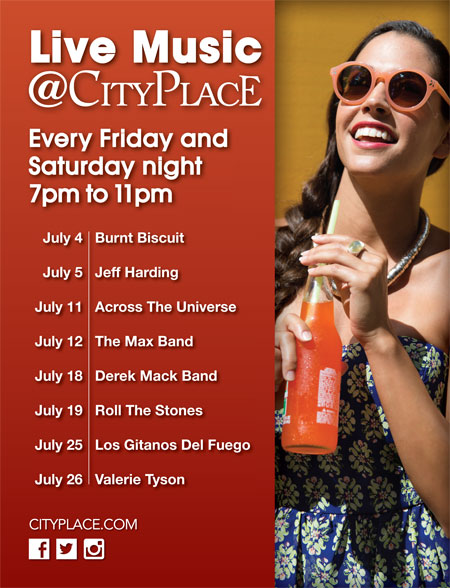 July 1 - 31, 2014.
at
City Place
, 700 S. Rosemary Avenue, West Palm Beach, FL 33401
Don't miss out City Place
West Palm Beach events
through the end of July, 2014, inlcuding great concerts of Live Entertainment on the CityPlace Plaza.
Legally Blonde - The Musical

July 10 - July 27, 2014, 8PM - 10PM.

Elle Woods appears to have it all. Her life is turned upside-down, however, when her boyfriend, Warner Huntington, dumps her so that he can start getting serious about his life and attend Harvard Law. Harvard's beloved blonde takes the stage by pink storm in this fun, upbeat musical about self-discovery. Ridiculously enjoyable musical from start to finish. Read More > > >

Alien Invasion Nights At the Museum
Friday, July 25, 2014, 6:00 PM - 9:00 PM
Come to the
museum
and you won't need your passport to journey over to the South Florida Science Museum to experience an alien invasion. Make your own Galaxy Goo and learn about the night sky, galaxies, and the universe with out-of-this-world activities.
More info > >
More Palm Beach FL Events.