AUGUST COMEDY SPOT
Jen Kirkman
Friday, August 1, 2014, 8PM, 10:30PM.
Jen Kirkman is a stand-up comedian and the author of the book, "I Can Barely Take Care of Myself," which became an instant New York Times Bestseller when it was released in April 2013. You've seen Jen on her regular appearances on Comedy Central's @midnight. She's done stand up on many late night shows: The Tonight Show with Jay Leno, Conan, John Oliver's New York Stand-Up Show, The Late Late Show With Craig Ferguson. She is currently working on her second book to come out through Simon & Schuster.
PALM BEACH FLORIDA FOOD & DINING

Café Boulud Palm Beach

301 Australian Avenue
Palm Beach, FL 33480
Casually refined French-American cuisine, highlighting light and inventive Mediterranean cuisine in a Provençale ambiance.


Dining Style: Fine Dining
Price: $31 to $50
Parking: Valet
Dress Code: Casual Elegant
See more Café Boulud details.
Samurai Culture: Treasures of SF Collections
June 3, 2014 - August 31, 2014.

Samurai Culture, organized by the Morikami Museum in conjunction with various collectors across South Florida, features an array of samurai suits of armor and weapons fashioned during the Edo period (1600 – 1868). Also displayed are a variety of paintings and prints depicting samurai life made during both the Edo- and Meiji period (1868 – 1912). More > > >
Art Masterpieces with Joan Lipton, Ph.D.

Wednesday, August 6, 2014, 2 PM; 6PM.

After last summer's success, Dr. Lipton returns with a follow-up lecture on art masterpieces. In this fully illustrated presentation,

she will compare and contrast selected works of similar content but different styles, including portraits, nudes, still lifes, landscapes, everyday events and psychological dramas. Some will represent relatively traditional, old world masterpieces; others will be more modern challenges to the art of the past. Expect European and American masterpieces from across the centuries. More > >
Street Racing Car and Motorcycle Show 2014
Saturday, August 30, 2014, 11AM - 10PM.
Enjoy live music, filming for a upcoming movie, hundreds of show cars, car and bike competition and much more.
Read More >>>
GHOST TOURS: AN EVENING IN THE DARK
August 1, 2014, 8 PM - 10 PM.
Do you have the bravery to see what's really going on in Yesteryear Village? For years, there have been whispers of hauntings, ghost sightings and cloaked figures in several of the town's buildings.
More >>>
OCTOBER ENTERTAINMENT EVENTS
The Charlie Daniels Band
Saturday, October 11, 2014 at 8:00 PM .

The Charlie Daniels Band is known for their contributions to country and southern rock music and is best known for the No. 1 country hit "The Devil Went Down to Georgia," which became a platinum single, topping both country and pop charts, earning a Grammy, three CMA trophies, and becoming a cornerstone of the "Urban Cowboy" movie soundtrack. Tickets Start At: $15.00. Buy Tickets > >
FEATURED PALM BEACH, FL HOTEL

The Sabal Palm House Bed & Breakfast Inn. Experience the charm of a Palm Beach, Florida bed and breakfast, the elegance of an affordable luxurious inn and the tropical beauty of the old Florida style. Read More > > >
The Most Happy Fella
July 18 - August 3, 2014, 2PM, 8PM.
An older unprepossessing grape farmer, who believes love has passed him by, romances a young waitress aching to find love in this glorious musical featuring such songs as "My Heart Is So Full Of You" and "Standing on the Corner."
Learn more > >
Live Entertainment on the Plaza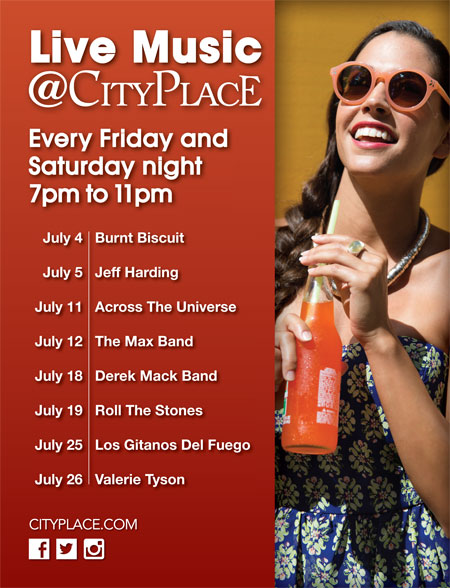 July 1 - 31, 2014.
at
City Place
, 700 S. Rosemary Avenue, West Palm Beach, FL 33401
Don't miss out City Place
West Palm Beach events
through the end of July, 2014, inlcuding great concerts of Live Entertainment on the CityPlace Plaza.
Legally Blonde - The Musical

July 10 - July 27, 2014, 8PM - 10PM.

Elle Woods appears to have it all. Her life is turned upside-down, however, when her boyfriend, Warner Huntington, dumps her so that he can start getting serious about his life and attend Harvard Law. Harvard's beloved blonde takes the stage by pink storm in this fun, upbeat musical about self-discovery. Ridiculously enjoyable musical from start to finish. Read More > > >

Stroller Daze At the Museum
Wednesday, August 26, 2014, 9:00 AM - 12:00 PM
Bring your little ones to the Science Center of
museum
for a fun-filled event just for them! Various activities include: Science Crafts, Story-telling, Fire Truck exploration, Planetarium Show, Entertainment by Patty Shukla, Giveaways and more! Cost: $7 adults, FREE for children ages birth to 4 years and Science Center members.
More info > >
More Palm Beach FL Events.