APRIL COMEDY SPOT
Mo'Nique
April 12 - 13, 2013, 7PM, 8PM, 9:45PM, 10:30PM.
Mo'Nique is a multi-media powerhouse whose consistent, extensive body of work has captivated audiences in stand up comedy, television, film and literature. The award winning comedienne's career began 20 years ago after her brother dared her to take the stage for the first time in their hometown of Baltimore, Maryland. She received a standing ovation which instilled the confidence that led to performances on "Showtime at the Apollo," HBO's "Def Comedy Jam," "Apollo Comedy Hour," HBO's "Snaps," BET 's "Comic View," The Montreal Comedy Festival and Uptown Comedy Club.
PALM BEACH FLORIDA FOOD & DINING

Flagler Steakhouse Palm Beach FL

Two South County Road
Palm Beach, FL 33480
Serving the finest USDA prime-grade and dry-aged meats, featuring a sporty Palm Beach ambiance with rich interiors, and panoramic golf course views.


Dining Style: Fine Dining
Price: $31 to $50
Parking: Valet
Dress Code: Smart Casual
See more Flagler Steakhouse details.
Discover Japan at JTEC
Saturday, April 13, 2013, 11AM - 2PM.

Visit our Yamato-kan exhibit, "Japan Through the Eyes of a Child." Purchase a passport ($1) and learn fun facts about Japan by yourself and with an instructor. No reservations required. More > > >
Kruger Brothers feat. the Kontras Quartet

Sunday, April 14, 2013, 3:00 PM.

The Kruger Brothers return to the Four Arts to once again dazzle audiences with their jazz-meets-bluegrass sound. Drawing

on a rich cultural palette, the group celebrates the best of what music can be: exciting, engaging, intelligent and delightful. This performance will feature special musical guests, who will be announced later in the season. Tickets $15. More > >
Disney Live! Mickey's Music Festival!
April 25 - 28, 2013
Mickey Mouse and friends rock the world with the stars from The Little Mermaid, Aladdin and Disney/Pixar's Toy Story in their new touring show Disney Live! Mickey's Music Festival. Disney hits are remixed to the hottest sounds of today featuring hip hop, pop, swing, reggae, rock, country and much more! The irresistible lineup of performers, including Mickey, Minnie, Donald and Goofy; Ariel, Sebastian and Ursula; Jasmine, Aladdin and Genie; and Woody, Buzz and Jessie; are among the more than 25 Disney stars featured in this jam session fit for the entire family!
Read More >>>
APRIL ENTERTAINMENT EVENTS
Kenny Rogers
Friday, April 12, 2013, 8:00 PM.

Known for his instantly identifiable, sweetly raspy vocals, three- time Grammy® Award winner Kenny Rogers has sold more than 120 million records worldwide and recorded more than 65 albums during his storied career. His impressive catalog of #1 hits – 24 in all – includes "The Gambler," "Lady," "Lucille" and "She Believes In Me." Buy Tickets > >
FEATURED PALM BEACH, FL HOTEL

The Sabal Palm House Bed & Breakfast Inn. Experience the charm of a Palm Beach, Florida bed and breakfast, the elegance of an affordable luxurious inn and the tropical beauty of the old Florida style. Read More > > >
Exit the King by Eugene Ionesco
March 29 - April 28, 2013, 2PM, 8PM.
An incompetent, 400-year-old king has just 90 minutes to live, but refuses to be convinced of his imminent demise or cede control in this absurdist comic romp.
Learn more > >
Live Entertainment on the Plaza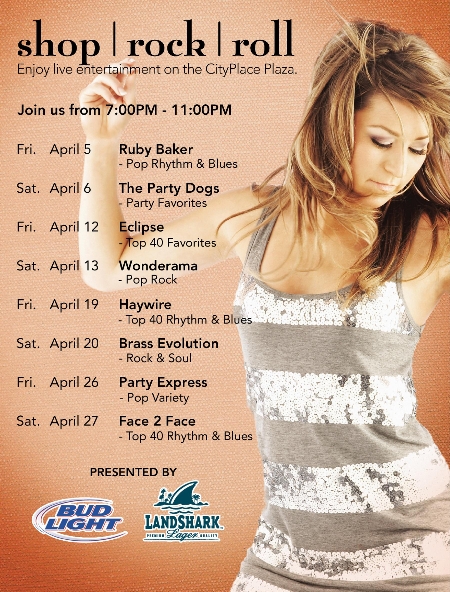 April 1 - 30, 2013.
at
City Place
, 700 S. Rosemary Avenue, West Palm Beach, FL 33401
Don't miss out City Place
West Palm Beach events
through the end of April, 2013, inlcuding great concerts of Live Entertainment on the CityPlace Plaza.
The Big Top Musical

April 11 - 28, 2013, 7PM.

The show traces the life of the legendary huckster Phineas Taylor Barnum from the purchase of his first sideshow act through his partnership with James A. Bailey. At the center is the stormy but loving relationship between P.T. and his wife, Read More > > >

Arabian Nights Night at the Museum
Friday, April 26, 2013, 6:00 PM - 10:00 PM
Come to the
museum
and you won't need your passport to journey over to the South Florida Science Museum for Arabian Nights at the Museum. Families will enjoy exploring and uncovering the mysteries of Egypt and the Middle East with presentations, crafts, activities and more. Come dressed as your favorite Arabian character for a prize!
More info > > >
More Palm Beach FL Events.